Accessory Dwelling Unit
Accessory Dwelling Unit (Granny Flat) Regulations in San Diego
Building codes have been changed to allow the construction of Granny Flats or Accessory Dwelling Units (ADUs) onto homes in the San Diego County Area. This is an excellent opportunity for the construction of a custom living space for an aging parent or another family member, rental unit construction, or building caregiver's quarters.
Mathis Custom Remodeling builders are currently constructing a beautiful custom ADU in the Rancho Peñasquitos area. Watch for updates as our builders move towards the completion of this custom construction project!
Phil and Raelene also built their own custom home in La Mesa in 2005 and would love to help you build the home of your dreams!
Below are some facts regarding ADUs here in San Diego
Any single-family residence that is zoned for Single Family residential use can start construction of an Accessory Dwelling Unit. Some multi-family zoned lots can build an ADU but check before you start.
The ADU cannot be sold separately from the main home; however, it can be rentable.
Fire sprinklers are not required for an attached ADU unless they are necessary for the primary residence. (This saves homeowners around 7K!)
The lot cannot have any code violations. Violations must be resolved before obtaining builder or construction permits.
An attached ADU cannot exceed 50% of the primary residence, up to 1,200 square feet. For example, if your existing home is 2,500 sq. ft., the attached ADU cannot exceed 1,200 sq. ft. in size.
Any existing legal structure can be converted into an accessory dwelling unit. This is great for homeowners looking to maximize their garage! An existing permitted garage doesn't have to comply with any additional setback requirements.
Fees must be proportional to the structure being built. San Diego just passed the waiver of development and impact fees, saving San Diegans an average of $17,000!
Short-term vacation rentals are not allowed in the ADU.
Both the primary and the ADU are rentable because owner occupancy is not a requirement.
Contact Mathis Custom Remodeling today for custom-unit questions and inquiries. Our builders are dedicated to the construction of your dream home and are excited to work with you!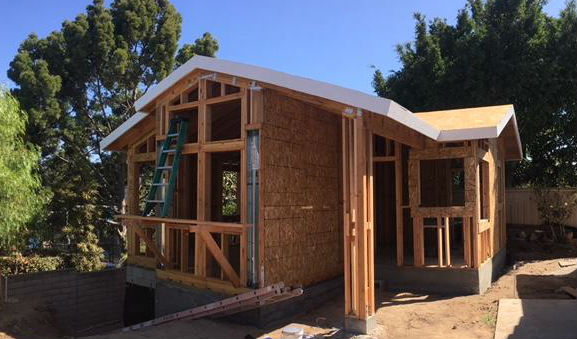 Newly Completed ADU in Rancho Peñasquitos
This project included living room and kitchen space with adjoining bedroom and bath, plus walk-in closet. Unusual for an ADU, yet included, was a basement with storage and laundry room. View the photos below to get an idea of how to complete your ideal Accessory Dwelling Unit.