Get a home you will love forever; Let us help you find your style!
If you have any questions or are looking for a professional quote, please fill out the form.
619-697-0040

SIX TIME BEST OF HOUZZ WINNERS

ARTICLE ON HOUZZ
Welcome to
MATHIS CUSTOM REMODELING
At Mathis Custom Remodeling, we stress integrity and excellence from the initial design to the remodel project completion. Our team of highly qualified tradesmen and subcontractors will work to ensure your home is everything you imagined.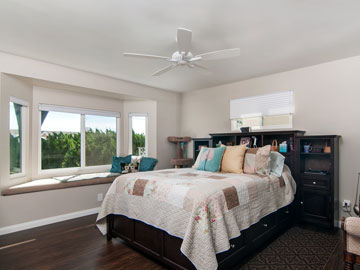 ADDITIONS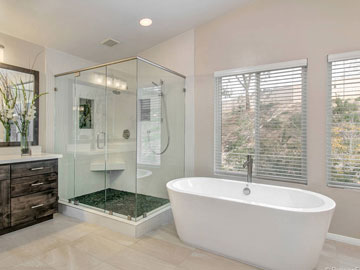 BATHROOM REMODELING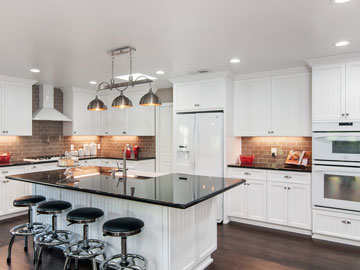 KITCHEN REMODELING
ADDITIONS
Families grow, why not your home too? No one said your home had to stay in a neat little package. Sometimes, San Diego homeowners need a little more space and Mathis Custom Remodeling is here to help.
Expanding your home might be the result of a growing family, the growing need for space, or growing finances that finally allow you to knock down that wall you've disliked for years. You know, the one that keeps you from seeing your kids play while making them a delicious meal.
Regardless, additions are a fantastic way to add your own personality and creative insight into your San Diego home interior. Whether you are planning to have a minor addition, or a full-blown extra wing of your home added, additions are a long-term investment in both you and your home.
Is your home a "Blast from the Past", sporting an outdated build? Many older styles now feel cramped and uncomfortable to homeowners in our current era of open floor concepts and massive kitchens. Enjoy the home you've grown to love while appreciating modern amenities. Get the space you've always wanted and the view that's right for you!
Adding on an extra room or taking down a wall can be a lot cheaper than moving entirely, especially in this San Diego economy. Love your neighborhood, but not the space? Use your creativity and inventiveness to provide a homeowner's satisfaction that simply moving could never offer.
If you do decide to sell your house, and maybe leave San Diego entirely, additions are a definite investment that goes beyond the look of your home! Most often, additions add square footage that increases the base price value of the property. Whether this increased space benefits you with greater mobility in your home, or those you sell to, the financial gain is undeniable!
From architectural planning and interior design services to making sure you have all the permits your location requires, Mathis Custom Remodeling is here to provide the perfect addition building experience for you while working with the best professionals San Diego has to offer.
Mathis Custom Remodeling, operating out of La Mesa, California and serving San Diego County since 1983!
VIEW PORTFOLIO
BATHROOM REMODEL
Bathroom remodels are some of the most beneficial updates that you can implement for your home. It's the most sought after and fought over room of your house, causing inevitable wear and tear. The bathroom is one of the first rooms that potential buyers assess whenever they are looking at a San Diego home. It's a room that you as a homeowner use every day and guests to your house will inevitably have to visit, unlike bedrooms or closets that you can keep safely locked and hidden away.
Whether selling or staying, your home's bathroom is an important part of the remodel process. Your bathroom should be a true "Rest" room to ease the tensions of the day without the worry of mold, broken pipes, and crumbling fixtures. Even if you are just looking to make small adjustments, we work with San Diego contractors who have decades of satisfied customer experiences from half baths to master suites.
Bathroom remodeling can increase the value of your house by thousands of dollars and make it more likely to sell, no matter the market. Although incredibly beneficial for your home, it's not easy to complete a bathroom remodel without a professional team.
Your bathroom contains complex plumbing and electrical work that can easily be broken if not handled by licensed professionals with experience and a reputation for success. That's why Mathis Custom Remodeling works with local San Diego experts who are vetted and certified as the best candidates for the job.
When you work with us, you can expect quality to flow freely in the bathroom of your dreams and last a lifetime! Mathis Custom Remodeling, operating out of La Mesa, California and serving San Diego County since 1983!
VIEW PORTFOLIO
KITCHEN REMODELING
Alongside the bathroom, the kitchen is one of the most common remodeling projects for a San Diego homeowner. Kitchen remodel has come a long way since some of the more outdated spaces we see in older homes. In the past, cramped space and uncomfortable cabinets defined the cooking area of your home.
Now, kitchens can be airy, convenient workspaces, with lots of room and efficient storage. Whether you're working with an outdated kitchen design or simply a layout that doesn't fit your needs, a kitchen remodel can bring a breath of fresh air into a home's structure.
One of the best things about designing a San Diego kitchen remodel is that you can customize it to your needs. No two people prepare food the same way, and having a kitchen that fits you and your individualized cooking process can make preparing food almost as enjoyable as getting to eat it.
Kitchen remodel, from adding cabinets to installing an island, takes lots of dedicated professional attention. Whether designers, contractors, or the workers themselves, everyone needs to be on board with your vision.
That's why it's great for you to work through Mathis Custom Remodeling. When we assemble a team to complete your project, we make sure that communication and dedication are prioritized. Giving you the kitchen of your dreams is easy for us when we work with expert San Diego designers and contractors.
VIEW PORTFOLIO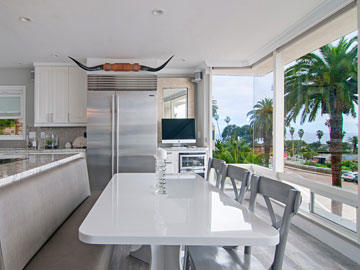 WHOLE HOME RENOVATIONS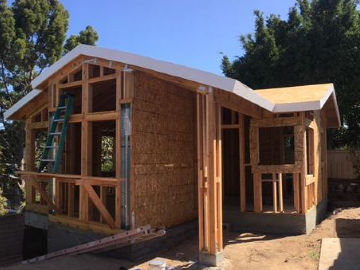 ACCESSORY DWELLING UNIT (ADU)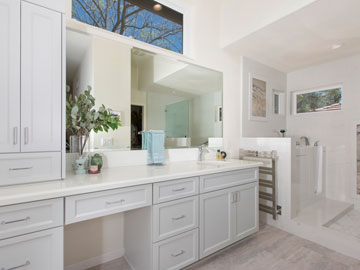 AGING IN PLACE
WHOLE HOME RENOVATIONS
Is your small project turning into a massive undertaking that exceeds your expertise? No worries, Mathis Custom Remodeling is ready to step in and help you manage that whole home renovation for your San Diego home.
Whole-home renovations give you the excitement of a clean slate within the guaranteed, solid frame of a house that you know and love. Invest in your home and create the look and space you've always wanted, rather than paying high prices in a volatile market for a home that may not meet your expectations. You'll pay much less to renovate your home with a full-scale renovation than you would if you purchased an entirely new one. Keep your location and memories with a chance to start band new ones in a beautiful new design.
Not sure where to start? Maybe you've purchased a fixer upper that needs a total overhaul, or the old home is on a struggling foundation. Don't try to create the perfect home yourself without the help of experts; experience the versatility and customizable freedom of designing alongside our professional San Diego designers and contractors so that your remodel is one that is dependable, long-lasting, and complete.
Mathis Custom Remodeling is ready to hear your dreams and bring them into reality by creating the design plans that bring the perfect look while ensuring required permits are received, eliminating costly setbacks and unknown obstacles. Call us today to begin your journey into a "New" home!
Mathis Custom Remodeling, operating out of La Mesa, California and serving San Diego County since 1983!
VIEW PORTFOLIO
ACCESSORY DWELLING UNIT (ADU)
ADUs, also known as granny flats, are self-contained living areas connected to a larger single-family San Diego residence. ADUs are commonly used to keep elderly loved ones close by while allowing them to retain independence and separate living from the family as a whole. That's where the name granny flat comes from: a residence that is designated for an elderly loved one.
Due to their common use as a home for someone who is older, being able to customize your San Diego ADU is incredibly beneficial. You can add wheelchair access, ramps, guide rails, and whatever else you feel is necessary to make the ADU a comfortable living space for your loved one.
ADUs are a great choice for elderly loved ones in San Diego, family members who need a temporary place to stay, or even a possible rental space. Sometimes, caretakers for loved ones can live in ADUs, so the loved one can stay with you and your family in San Diego while their caretaker is constantly nearby and able to help if necessary. ADUs can't legally be used as short-term vacation rentals, and there are a few rules to follow when constructing ADUs.
To make sure that you follow all the correct guidelines in your area, work with professionals who are familiar with the details for both residential building projects and ADUs specifically.
ADUs can be a fantastic addition to your home that Mathis Custom Remodeling is more than prepared to provide. Whether you're planning to pour concrete and create the ADU from scratch or repurpose a garage as a living space, our professional contractors and designers are here to create the ADU that you and your family need.
VIEW PORTFOLIO
AGING IN PLACE
Outside of an ADU, there are many other custom remodeling options for individuals choosing to age in place in San Diego.
While an ADU requires very specific qualifications to meet all of the local codes and regulations, and often operates as an extension of another living space, remodeling a home with the intent to age-in-place follows the same guidelines as another form of home remodeling.
There are still rules to follow, but with aging-in-place remodeling, your creativity gets to soar. With Mathis Custom Remodeling, you can age in place according to your specific needs.
Senior accessibility remodels for individuals aging in place include bathroom updates, ramp installation, shower conversions, updated lighting, widened doorways, and many more adjustments that ensure the best experience possible. Both comfort and convenience are key when looking to remodel a San Diego home with aging-in-place in mind.
San Diego retirement facilities are specifically designed to accommodate wheelchairs and walkers, while your home is not. A building created with retirement in mind will have shower rails, non-slip floors, and other amenities that your home may lack. To age in place comfortably, these adjustments should be made, and Mathis Custom Remodeling knows just how to provide.
The best part about making adjustments yourself with an aging-in-place renovation project is that you can tailor your home and the amenities to exactly what you as an individual require. When you work with a skilled team like the professionals with Mathis Custom Remodeling, we'll help you assess your home and determine the most efficient way to convert your home into a residence where you can comfortably age in place.
When you work with a skilled team like the professionals with Mathis Custom Remodeling, we'll help you assess your home and determine the most efficient way to convert your home into a residence where you can comfortably age in place.
Mathis Custom Remodeling, operating out of La Mesa, California and serving San Diego County since 1983!
VIEW PORTFOLIO
Testimonial
"WHAT OUR CLIENTS ARE SAYING"
JENNY S.
Highly recommend!!!!!
Mathis Custom Remodeling did a full remodeling job of my late father's house in San Diego. I was initially hesitant as I live in New York and would not be able to oversee the project directly. Raelene and her husband Phil were exceptionally professional, attentive to detail, and treated my house as if it was their own. They had wonderful suggestions for updating my 1962 ranch style house to modern standards while still incorporating much of the house's original charm. Their communication with me was excellent, with weekly reports and photos, as well as promptly responding to all my questions and concerns. They respected my budget and my taste while offering many suggestions for small improvements that made a huge difference. Everyone who has seen the house comments that it's like a brand new house. Thank you again!A little description about this person will show up here.
Bob & Kristy H
Our home was built sometime around 1920 and was in need of a professional kitchen remodel. Since there was no option to enlarge the kitchen space, we presented Phil and Raelene Mathis with the challenge of maximizing the use of the existing space, while maintaining the spirit and unique features of our vintage home. The galley layout was set, but cabinets, counters, appliances, plumbing, lighting, and flooring all needed to be replaced. In addition, structural work was needed to strengthen the floor and enlarge the laundry space. We knew going into the project what materials we wanted to be used. Raelene, as the interior designer, validated our choices and worked diligently to source them. When we needed her input, she was ready to provide it, but willingly stepped back to let us make our selections. Phil and Raelene allowed us to be as involved as we wanted to be and to help brain-storm solutions for the multiple issues that cropped up because of the age of the house and the space restrictions. Throughout the duration of the project we could count on their dependability, perseverance, and attention to detail. Without hesitation, we are happy to recommend Mathis Custom Remodeling.
Douglas N
We chose Mathis to remodel the home we recently purchased, focusing on a complete overhaul of the kitchen and all baths. They did a fantastic job, have a great crew of subcontractors that do a great job at finishing the work, and not making such a mess while doing the project. Raelene and Phil are always accessible and approachable, especially when we had to make changes along the way. They took our ideas, blended with their expertise in executing, and we came up with a fantastic 'new' home that we will enjoy for a long time. One important thing….they really care about doing the job right, especially the things that don't show. Phil always is thorough in developing the correct build quality of the structure, plumbing and electric, not just the finishes, which are first class as well. Would we hire them again? Absolutely! In fact, they are heading up the remodel of my clinic at this moment. We highly recommend them, without hesitation.
Phyllis M
Phil and Raelene Mathis did a fantastic job transforming our cramped master bathroom/closet area into a separate master bathroom and walk in-closet. The work involved removing and relocating all plumbing, electrical, walls and doors, creating a separate area for the walk-in closet, and designing a master bathroom that was elegant and functional. Both Phil and Raelene were personally involved during the entire project: Phil either supervising or performing the work; and Raelene helping with material selection and overseeing the work schedule. The finished product truly exceeded our expectations.
Design Build Remodel
MATHIS CUSTOM REMODELING
From initial plans to the finished product, our team will guide you through every step of the construction process. We are your top choice for remodeling and home renovation in San Diego.

SIMPLIFIED & SEAMLESS PROCESS

A UNIFIED TEAM WITH TOTAL ACCOUNTABILITY

PROJECT COST & TIME SAVINGS